After Boris Karloff made a horror name for himself with
Frankenstein
(dir. James Whale) and
The Mummy
(dir. Karl Freund) in the states, he returned home to England to reunite with his family, and ended up making a film in his homeland as well. That film was 1933's
The Ghoul
(dir. T. Hayes Hunter), and while Karloff himself might not have had the grandest of times making the movie (he wasn't a fan of make-up artist Heinrich Heitfeld, who reportedly didn't speak English), I still find the film enjoyable and creepy.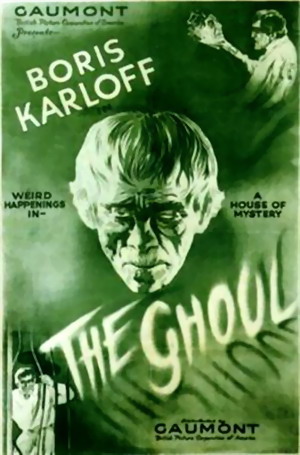 Throw some faux-Ancient Egyptian elements into a film, and I'm hooked. I love that aesthetic, and that's a big part of the reason I love most mummy films (which I'm sure I'll get to as this month continues!). Karloff himself was in one of the (if not the) best mummy films, so to see him continue to skulk around an Egyptian tomb in
The Ghoul
was a real treat.
Karloff, as always, is a delight, and to see him in another movie with Ernest Thesiger is a bonus. Also,
The Ghoul
expertly incorporates a bit of Richard Wagner's "Der Götterdämmerung" into its soundtrack. (Previously, I'd been associating that music with
Excalibur
(dir. John Boorman), but I think I dig it a LOT as a funeral march now!)
This is the lanky, younger Karloff, so he's this thin creep of a man in the movie, and his performance (combined with the make-up) gives him the look of a professor-turned-ghoul. He exacts his revenge on those who've wrong him . . . and it's unnerving. I'm purposefully being vague about many more details of the movie because it really is something I think more people should see for themselves!