The Thursday Thirteen is a recurring feature here at Plan D in which I post a list of 13 items/movies/books/etc. of any given category. Last month, I was in a bit of a funk. I'm chalking it up to pre-seasonal-depression . . . the season in question being the Halloween Season. Now that October is upon us, I've got a number of things - thirteen in fact - that I'm looking forward to.
- Zompire: The Undead Film Festival (aka Zompire vs. The H. P. Lovecraft Film Festival)
. Zompire is BACK! This film festival returns from the dead this October when it fills Portland's
Clinton Street Theater
with all manner of zombie and vampire films . . . with a dose of the Lovecraftian thrown into the mix to help slake our eldritch thirst until the next Lovecraft Film Festival next year. Zompire happens October 12-14.
-
Howl Con
- From the con's website: "HOWL CON, a horror/fantasy convention dedicated to your love of wolves and werewolves, is coming to the Monarch Hotel & Conference Center in Portland, Oregon this October 13-14 (meet-and-greet the evening of Friday, October 12). A substantial portion of HOWL CON's proceeds will be shared with Pacific Northwest wolf sanctuaries." And it looks like I'll be on at least one panel at this con.
-
I Heart Monster Movies
premiere
. I'm attending the premiere of this horror-fan-centric documentary the evening of October 12. (I get to attend the premiere because I was interviewed for it, but this isn't the only reason I'm excited to see the movie!)
(Did you notice that? Check your calendar. These first three events ALL happen the same weekend. That weekend is going to be INCREDIBLY busy with a horror documentary Friday night, werewolves during the day Saturday and Sunday, vampires and zombies Saturday night and a touch of Lovecraft Sunday night. It's going to be busy . . . but in the best possible way.)
-
The Universal Classic Monsters Blu-ray Collection
. Somewhere between the UK and my mailbox is the European release of this blu-ray collection. I can't wait to watch the classic Universal films -
Frankenstein
,
Dracula
, etc. - on my HD TV in their best possible presentation . . . and to display the blu-rays in their coffin-shaped box. My only disappointment? I don't have a 3D TV to watch the 3D version of
Creature from the Black Lagoon
.
-
Corn Maze
. We haven't decided which one we'll attend, but Bren and I have talked about hitting up a semi-local corn maze or two this month. It can be tough sometimes with our various health issues making it difficult to spend the car time necessary to drive out somewhere with uneven grounds and a lot of walking around, but it's also oh-so-Fall and something that we always enjoy in the moment. One of my favorite pictures of my wife is a picture I took of her at a corn maze, and I'm looking forward to spending some time with her among the stalks soon.
-
A haunt or two
? This isn't Bren's bag - and that's all right - and I really don't like going to these things alone, but a friend of mine has started talking about going to one this year, and if he's willing to pull the trigger, I'm THERE.
-
Monster cereal
. I still have boxes of this stuff from last year, and I'm a little disappointed (but not all together surprised) that the box design hasn't changed, but it's still always nice to see my friends Count Chocula, Boo Berry and Franken Berry gracing the shelves of my local grocery store.
-
Odd Halloween costume merchandise
. This year seems to be a good year for the odd Halloween costumes. Zombie stockings (nylons after a pair of scissors taken to them). The reported "American Horror Story" Black Rubber Man costume at typically family-friendly retail locations. And this one - the Super Soft Old Woman. Just . . . bizarre . . . and funny . . .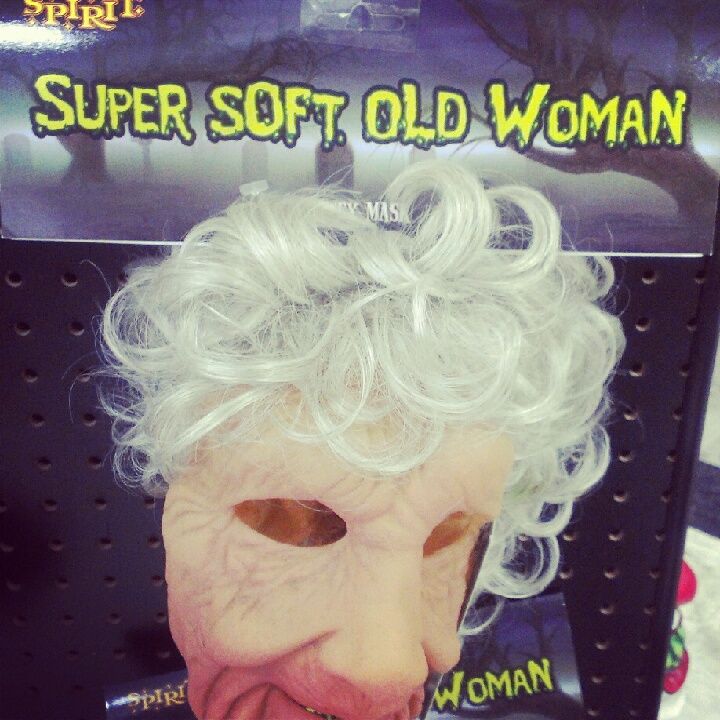 -
Halloween-themed television
. Even reality shows take a turn for the Halloween during October with shows featuring pumpkin carving, special make-up effects, a mask maker's warehouse, and that doesn't include the hours upon DVR-straining hours of movies on TCM, AMC, etc. (And did someone say "The Walking Dead?" I didn't - I'm still not caught up on Season Two! Shhhh . . . don't tell anyone . . . !)
-
Halloween-themed episodes of podcasts not necessarily devoted to horror all the time
. I'm involved with two podcasts that focus more on horror than anything else, but that doesn't mean I listen to only horror-themed podcasts. But it's October. It's time to get all spooky in your ear buds, and a lot of podcasts I listen to are going all horror this month.
-
Countdown to Halloween...
I look forward to this blog event every year, and if you were to look at my Google Reader, you'd find several blogs that I added after discovering them during a previous year's Countdown to Halloween...
-
Frankenstein and The Bride of Frankenstein on the big screen
. I've already purchased my tickets and took the time off from work. I am NOT going to miss an opportunity to see these moves on the big screen (
courtesy of TCM and Fathom Events
). I would have never thought I'd have the opportunity to see these films in a theater-setting (even if they are being streamed digitally) . . .
-
Halloween itself
. I have no idea what I'm doing the actual day of Halloween, but I'm sure I'll find something, and I don't need a blog countdown to tell me how many days left until I have before "my" holiday hits.
(And I didn't even mention
Turkish Star Wars
. . . )