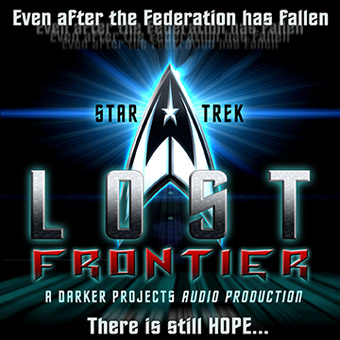 I haven't talked too much about it here at Plan D, but I'm an old school Star Trek fan. It started for me in grade school when I discovered the original series in syndication, and would watch it whenever I had a chance. My dad said he liked Star Trek, too, and one year, I gave him a Star Trek trivia game for Christmas, but he didn't seem nearly as impressed with it as I was. (I never got to play that game with him . . . )
I was a fan of "Next Generation" and "Deep Space Nine" (and, damn if I didn't try to enjoy "Voyager"), read some of the novels, played a lot of the FASA role-playing game, and watched the movies a LOT.
And I listen to some Star Trek podcasts, both fan podcasts covering the franchise, as well as some of the original fan-produced audio dramas.
Over the years, I've provided some voices to various projects over at
Darker Projects
, and a few weeks ago, I was contacted by producer Chris Williams. A new episode of
Star Trek: Lost Frontier
was in the works, and the character of Knight was set to appear in the story.
I was
thrilled
my character was coming back. He's part of the bridge crew, and while he doesn't have a lot of lines in the latest episode, I would love for producer Williams and writer Jules Ismail to want to bring him back in the future.
Star Trek: Lost Frontier Episode #17 - The Rift
was released 1/31/12, and, Knight or not, I really enjoyed episode. I'm looking forward to future episodes (hopefully soon!).
(And, hey, Darker Projects folks? I'm not forgetting how much fun it was performing the role of the Klingon Korath in
Star Trek: The Section 31 Files
. . . I'm just sayin' . . . ! )