Last week, my friend Emily posted
her Cinematic Alphabet
at her blog
The Deadly Doll's House of Horror Nonsense
. She was inspired to do so by a few other blogs, and, in turn, she inspired me to create my own.
I commented on her Alphabet, and she commented back that she thought I could do one of these using nothing but zombie movies . . . and she's probably right. However, I wanted to challenge myself and see if I could do this with
out
falling back on the bread-and-butter of
my podcast
. (And, no, I don't consider my 'P' movie a zombie flick even though it turns up in a lot of zombie movie reference books . . . and now that I think about it, so does my 'N' movie even though that one's also decidedly non-zombie. Hell, even my 'I' movie and 'S' movie could kinda-sorta have zombie elements if you look at the mind control elements a particular way, but I'm not wanting to open that can of undead right now.)
The approach I took is that I wanted to list movies that I can watch over and over again, movies I love, movies that if I found flipping through channels I'd stop and watch even if there were only a few minutes left until the end credits start to play. I missed a lot of my favorites because so many of them all start with the same letter. There are no Hammer films on my list, and classic Universal is barely represented. I was surprised to find a Raimi flick in the mix as I feel like he stopped making movies for me years ago and have kind of moved on, and I struggled so much with one of the letters that I kind of cheated a bit. (Although 'X' was incredibly easy for me for some reason!) Onto the alphabet!
A is for The Adventures of Buckaroo Banzai Across the 8th Dimension.



B is for Back to the Future.



C is for Creature from the Black Lagoon.



D is for Darby O'Gill and the Little People.



E is for Ed Wood.



F is for F/X.



G is for The Goonies.



H is for Hellraiser.



I is for Indiana Jones and the Temple of Doom.



J is for Jaws.



K is for Knightriders.



L is for Lord of Illusions.



M is for The Monster Squad.



N is for Neon Maniacs.



O is for The Old Dark House (1932).



P is for Prince of Darkness



Q is for The Quick and the Dead (1995).



R is for Raiders of the Lost Ark.



S is for Star Trek II: The Wrath of Khan.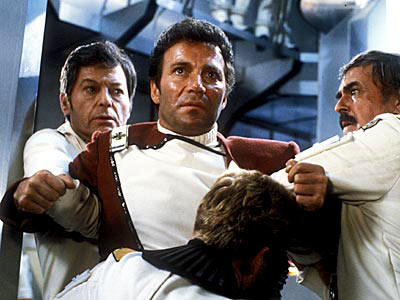 T is for Teenage Frankenstein.



U is for The Uncanny (1977).



V is for Vampires.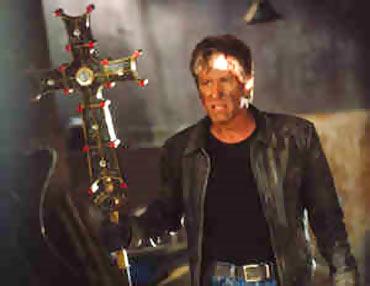 W is for The Whole Wide World.



X is for X: The Man with the X-Ray Eyes.



Y is for The Yellow Sign.



Z is for . . . um . . . anythat that starts with the word Zombie... I tried. I REALLY tried to find a movie that fits the stop-everything-and-watch-the-movie criteria, but I really couldn't come up with anything!